We usually evaluate previous year at the end of January, when we have had a little time to see it in perspective. And to analyze the year 2020 you need that, a little distance, without the ups and downs that we have had in this peculiar year.
This time we are going to share our reflection with you, since many of you have asked us how we have been. But above all, because this has been the year in which we have connected directly with many of our clients, who have become friends and have become part of our Territory, Territorio Luthier.
JANUARY AND FEBRUARY – Planning
We started the year 2020 with many goals and planning many actions, for us, it was the year in which to consolidate the distribution of our wines. This involved traveling a lot… nationally and also visiting importers abroad.
But plans don't always go as expected … and Covid19 changed ours (and those of the rest of the world)
MARCH – Pandemia
Confident at first ... we thought it would not last long and we dedicated ourselves to cellar work and calmly waiting for everything to pass.
APRIL – Panic
Things were not looking good, sales were not going as expected and there was little we could do to improve. We couldn't sell to restaurants that were closed, we couldn't travel to find distributors, our online sales were almost nothing… and one of our strengths, which is the visits to the winery, didn't seem like it was going to be an option.
We started asking for bank credits, looking for financing, seeing how we can last … which surely many of you find it familiar
MAY – #Pontunombreaunacepa #Nameyourvine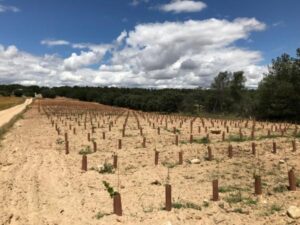 Since 2019 we had planned to plant a vineyard of native varieties in danger of extinction next to the winery. We already had the plants, but the cash had disappeared and it did not seem that the situation was going to recover any time soon, so we considered whether to plant or not. Not planting was a very sad decision anyway. Something had to be done.
So we launched #pontunombreaunacepa or #nameyourvine in English, campaign, in which we put your name on one of the vines in our vineyard for the purchase of our wines. We did not want to ask for money, but for collaboration.
And suddenly the sun and all the stars came out, because the result was incredible. We gave away all the vines in just two weeks, we managed to sell a lot of wine and we launched our online sales to final customer with impressive success. Not only did our friends and acquaintances turn to the project, but we also got many new clients. And we were on TV!
To give thanks for all the support we received, we created the Luthier Club, to which all those who had named a vine became a part. The idea of ​​the club, which we had been planning for a long time, is for people to be part of our winery, and come to see us and their vines
JUNE and JULY – The terrace of Luthier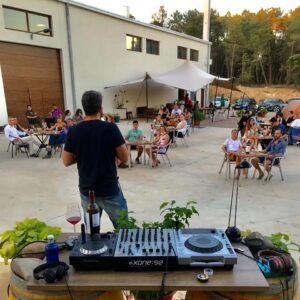 In June, we organized an interesting Technical Conference on Endangered Vine Varieties with the experts who had helped us in the project and published a technical article on the conclusions that had national repercussion. We hope to continue doing this type of conference because they are very interesting and enriching. With the enthusiasm of the vines, the de-escalation and the light showing a bit, we decided to open our terrace to the public with a super cool schedule of events for the summer. The site is perfect, outdoors and surrounded by pine trees. We had a singer-songwriter, a stand-up writer, DJs, a couple of nights of wine and stars, with two astronomy experts giving a talk followed by a music session, music groups and a big party to celebrate the end of confinement for all Luthier Club members. We really enjoyed the terrace with music, wine, food and good friends. And with masks, hydroalcoholic gel and many posters around the winery reminding you to keep your distance or how to wash your hands properly. We quickly adapted to all anti-covid measures and made sure that we always complied with the capacity and schedule limitations (which by the way changed every little bit …). And we drank a lot of rose!
 AUGUST – Another confinement? Really?
Again, Covid changed plans. Things got worse and they confined Aranda and we had to cancel everything, in total half of the events. Let's see if this year 2021 we can take them back because the poster was really cute.

To give you an idea, the last concert we did was with Jorge Salan, one of the best guitarists in Spain. The concert was on Saturday and by Thursday afternoon it was still unclear if it could be held or not. Have you ever gone to a concert with rock and heavy music sitting down? Well, it was amazing. Jorge and his group, who hadn't been able to play live for 8 months, gave it their all and it was one of the best nights of the summer.
SEPTEMBER – Harvest is earlier than usual
After the concerts were canceled, without visits, all our attention was focused on the preparation of the harvest. A lot of stress, thinking about how we were going to organize work with covid restrictions, how to avoid contagion, what happens if we have a positive, etc. 

Keep in mind that our winery is very artisan, all the grapes go through a manual selection table, we have a lot of people working and if we had to quarantine ourselves, we had a big problem. The vineyard does not wait ... 

The harvest came early and we started in September. You can see our <a href="https://territorioluthier.com/en/harvest-2020-in-territorio-luthier/"> post about the 2020 vintage </a>. 
 OCTOBER – Harvest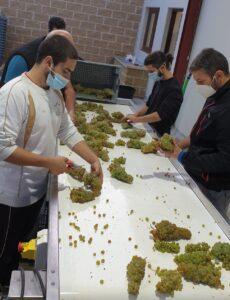 The harvest occupies everything. It was long and rainy but with great quality.
Complicated because of the circumstances, as we have already explain. Although at the end everything went smooth and without complications.
In Ribera del Duero it has been a very abundant harvest and the wineries have been very concerned and adjusting production due to the drop in wine sales. On the other hand, we had three new concrete tanks and we have processed more grapes than any year. And a lot of white!
NOVEMBER – #TerritorioArandino and Lara O 10º aniversary
In November we wanted to break a spear through our town and support commerce and one of the sectors most affected by the situation: bars and restaurantes. To do this, we launched the #TerritorioArandino campaign, in which we promoted our Lara O crianza wine in the bars of Aranda and offered companies and businesses in our town a very special price so that they could make their promotions and gifts for the Christmas campaign.
Territorio Luthier, #Territorioarandino has been the demonstration of the love we have for Aranda and the pride we feel for being Arandinos as well as a gratitude for the support received for our neighbors this year.
All this perimeter closure has made us focus more on what is closer to us (another good thing about the pandemic).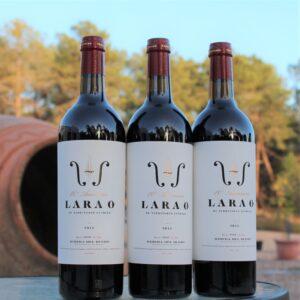 Of course, we now know very well that in 2020 once you make a plan … somthing happens! A week after launching the campaign, all bars and restaurants were force to close, so we had to stop it and canceled the pairing dinners that we were organizing.
But we had more plans, and to thank our customers for their support and loyalty, we put a very special wine on the market, Lara O 10th anniversary, 2018 vintage, to celebrate the 10th anniversary of the founding of the company. It is also the first wine to come out of the new winery, of which we are very proud. Only for members of our Luthier club. Great success.
DECEMBER – Christmas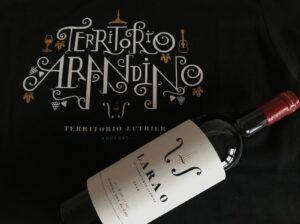 The hospitality industry reopened and we returned with #TerritorioArandino, setting an example and passing through all the promotion bars that were open to have a Lara O.
We even designed a very special T-shirt for the Arandinos, a perfect Christmas gift .
The Christmas campaign once again showed us the loyalty of our customers and the great success of deciding to promote the online sales channel.
And we celebrate Christmas with our wines and said goodbye to 2020 with a smile and a bit of nostalgia, but little. Because we really wanted to start 2021. And it is starting well…
We are naturally optimistic, and looking back we see the good things that we can learn from. And looking forward we see a year in which everything has to be done and that depends, above all, on us.
Thank you very much for your support. This year we hope to see you in our winery.
Cheers!