A unique wine with such a special history, requires an entry in our BLOG…
In January 2008 we started the adventure of making wine. We had been related to this exciting world for many years but we had never been on the side of the winemaker… we were more on the side of the one who drinks it, sells it, recommends it or visits wineries.
But with a lot of illusion, passion and some knowledge, in the harvest of the following year we created our first wine: LARA O 2009. A crianza in the style of the wines we liked. The name is a tribute to the sister of Fernando, partner and winemaker of our winery. Our name at that time was "Bodegas Fusión" and we had just enough means, with a rented space in another winery.
And so we continued many more vintages… creating new wines, learning and enjoying them and all the people who have supported us. Family, old friends and new friendships that arose from this adventure. We fondly remember many trips, after-dinner conversations and even early mornings surrounded by good people and our LARA O.
The year our company turned 10 years old, 2018 was very special for us because it was the year we inaugurated our new winery already as Territorio Luthier. Nestled in a magical place, in the middle of the bush, that was going to be the new home for our wines and where we were going to enjoy so much with the people we love. Legendary was the inauguration party…
And in that first vintage in this winery, when all the grapes were fermenting in the new concrete tanks, we found a very special tank with a magnificent color and aroma, very peculiar and worthy of being separated and with which we decided to do something special to commemorate the 10th anniversary.
That batch from the 70-year-old La Horra vineyards (95% Tempranillo and 5% Garnacha) was transferred directly to 225L and 300L French and Hungarian oak barrels, almost all of them new, where it underwent malolactic fermentation and was subsequently aged for 18 months.
The final result, a limited edition of 2,756 bottles of a very special wine that we have bottled this 2020 and which we decided to call LARA O, as our first wine; and 10th anniversary, for being what this wine celebrates.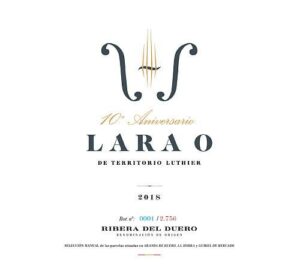 It is a unique wine and that is why it has come out with a generic Regulatory Council label, something that shocks many people. We decided to make it this way because this wine does not fit into the classic crianza, reserva, gran reserva profiles of our winery. This wine is something else…
Always within a framework of elegance, finesse and delicacy, our wines reach different expressions and LARA O 10º Aniversario 2018 is the most modern style red. The change with respect to the rest is produced by the interest of achieving an accessible wine right now but with a great aging capacity, which has a very interesting present and above all a future. A wine that we are sure is going to give a lot to talk about.
A wine, dedicated to all the people who have supported us over the years, so many friends that we want them to enjoy this work and that is why it is a wine that can only be accessed through our CLUB of friends of Territorio Luthier.