Today we want to share with you how the 2020 harvest was, the third harvest in the new winery.
Still waiting for the evolution of the malolactic, but so far so good, everything suggests that we are facing the best harvest in the history of this project, which began with our first harvest in 2009.
The harvest has been long and with its fair amount of complications. How could it be otherwise in this terrible 2020.
Covid19 and the rain have marked this vintage, that started for us September 15, with the entry of the first bunches of white grapes and ended October 18 with the last of red grapes, with long stops in between due to the rain. A little over a month picking grapes, plus the days of preparation before and those after. In total, two very intense but very satisfying months. 122,800 kg of grapes in total that will give us 100,000 bottles to remember.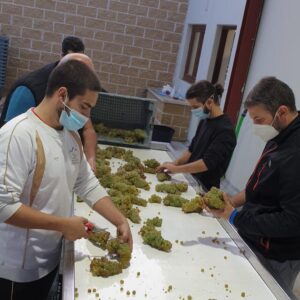 A vintage in which quality and quantity have gone hand in hand, with a wine that we sense will be excellent. The time it takes to process all the grapes is determined by the fact that in our winery 100% of the harvest is done manually in 10 kg boxes. In addition, all the grapes go through a selection table that is the heart of the vintage. It is an effort and a significant cost, but it is also our commitment to achieve the highest quality in our wines.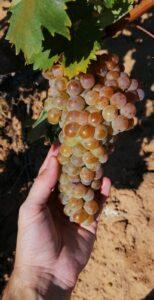 This year we have paid more attention to white varieties, especially Albillo and Pirulés, from old vineyards and very small plots. The production experiences in previous vintages, the fact that the Ribera del Duero Regulatory Council approved white wines last year (and selected ours for their official presentation) and having found incredible vineyards, have encouraged us to elaborate about 23,000 kg of white grapes, which we will dedicate to aging and reserves. We like whites that age.
We have also increased the production of our claret. We harvest the vineyard without separating white and red varieties, make direct pressing and ferment it with its own yeasts, as was done before. If our grandparents did so, there must be a reason. We make a traditional claret, like the old ones, preserving the acidity of the typical Ribera clarets.
All presses are made with a small vertical press. The effort and time invested in this operation pays off in the end. We are sure that the quality is in details like this.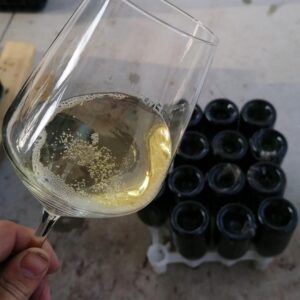 And this year we continue with our ancestral sparkling wines. It is the third year that we make them and each time we get better. We have given ourselves 5 years to experiment and we believe we are on the right track. For now they can only be tried in Territorio Luthier. You are invited to do the degorge à la volée with us!
We continue to incorporate new  vineyards and different types of soils, opting for the old vineyards and the Garnacha to mix with the tempranillo. In fact, we like this variety so much that our winemakers Fernando Ortiz and Chus Madrazo are already thinking of a single-variety Garnacha.
A large part of our winegrowers are organic or biodynamic and the rest have a clear commitment to sustainable agriculture. Soon we will also be able to harvest the vineyard of minority varieties that we have just planted next to the winery with the #PontuNombreaUnaCepa campaign.
At Territorio Luthier sustainability is one of the pillars of our philosophy. For this reason, all the water we use comes out of our well and it is recycled for irrigation, we use the stalcks for compost and we refrigerate with the water from the well, always maintaining the temperature of the cellar in a natural way.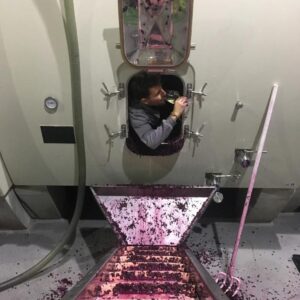 Once again, the fermentation went smoothly, each tank at its own pace since we do not inoculate yeasts or bacteria, all is natural, directly from the vineyard. Fernando and Chus are like wine luthiers, they work the grapes with great dedication with natural means to make clean and elegant wines and meticulously control each step so that each wine gives the best of itself.
Afterwards …, pumping over, delestages, racking, running off tanks, pressing; pampering and caring for our wine in our concrete tanks, which by the way are magnificent. On November 4, wine was finished, ready for malolactic both in tanks and barrels. A small percentage, approximately 10%, will make the malolactic in new barrels.
The reds of 2020 are amazing, we have unusual acidity and pH, the lowest pHs in our history, which will ensure fresh and long wines, with great storage capacity and also with a lot of structure and color. 2020 will be a great year, at least as far as wine is concerned. All deposits are of higher quality than expected and we are considering increasing our Reserva and Gran Reserva production at the expense of Crianza.
At the end of the day, when we do the last tour of the winery, before closing for the night and taste the last wine, we realize that all the effort has been worth it and we feel the satisfaction of a job well done.
As we have Covid restrictions and we cannot gather more than 6 people, we postpone the end of harvest party for another day that we hope will be soon. WE WILL LET YOU YOU KNOW!
In the meantime, remember that you can continue to enjoy our wines from your homes by buying directly from our Online Store or being part of our Luthier Club for private sales with discounts and access to limited editions of wines.
Territorio Luthier no longer has the harvest smell, nor it is full of people with masks, we no longer eat every day on the terrace, nor do we eat pizza after finishing the last pump-over and cleaning the selection table. The cellar is clean, with everything collected, and calm, as it should be for the wine to continue its aging in peace and without hurrying.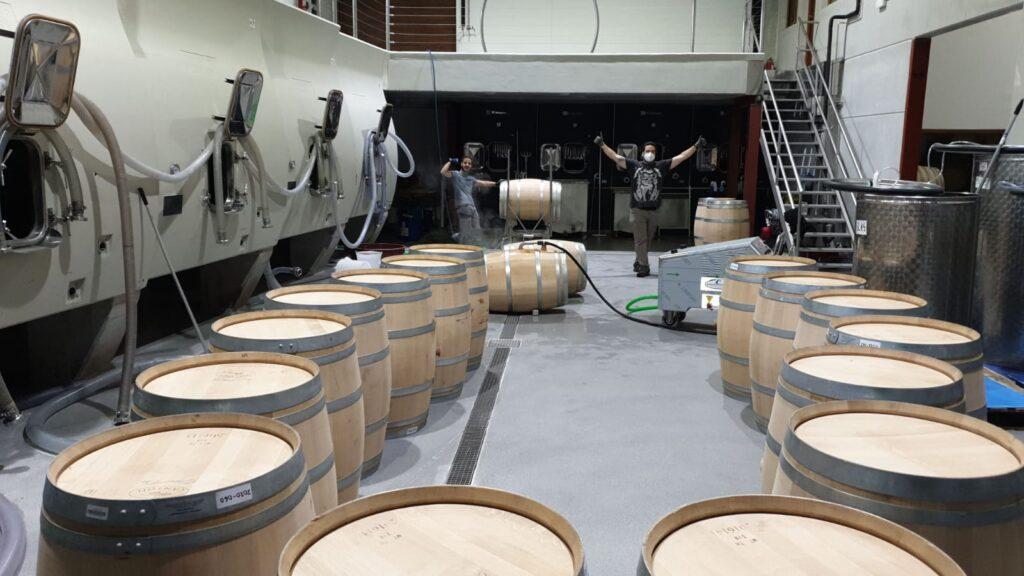 The worst of this harvest? It is clear! All the people who have not been able to come to visit like other years … We missed you a lot but we have received your support. We have put all our passion again into this vintage.
Much still needs to be done with this 2020 vintage but thit is another story that deserves to be told on another occasion …
Big hug and see you soon.