Get the first vintage of "LAS CEPAS DE LUTHIER" only until July 30.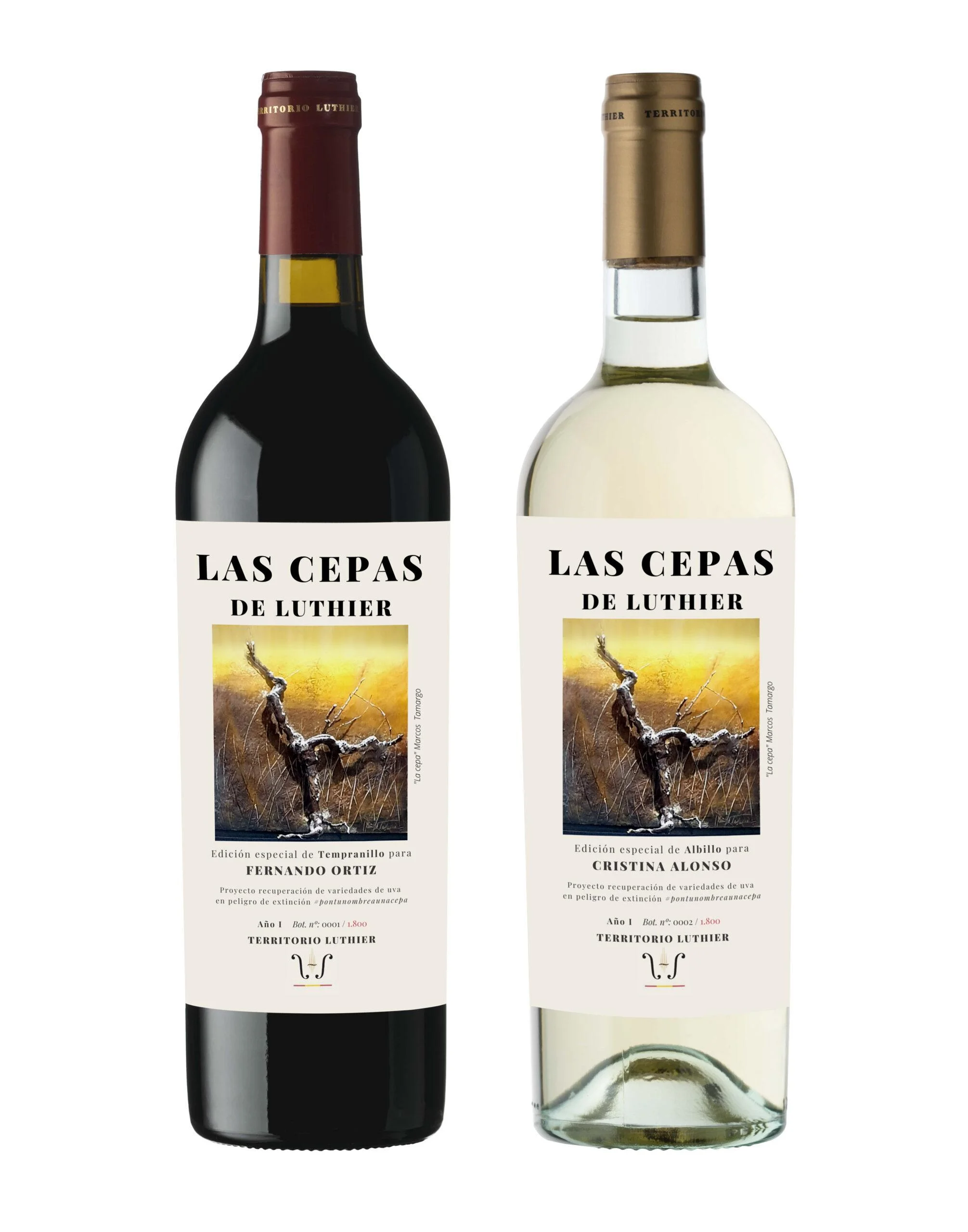 PRE-SALE CAMPAIGN FINISHED
Order now your personalized bottles to pick up in August at the winery or we will send them to your home if you can't come. Shipping costs included from 45€.
Tell us the name to include on the label in the NOTES section at the time of purchase.
---
As we promised you when you participated in the campaign "Pon tu nombre a una cepa", from TERRITORIO LUTHIER we offer you the possibility to get an exclusive wine every year.
This first year, the vines are not yet ready to produce and elaborate with them, so we offer you a wine specially selected by us to start the collection.
The label is personalized with the names you indicate. We have reserved for you as many bottles as vines you sponsor, and you can put a different name on each bottle. Perfect as a gift.
Each year the label includes the representation of a different work of art made especially for TERRITORIO LUTHIER, which is exhibited in our winery.
Start your personalized collection of unique wines with the first vintage of "LAS CEPAS DE LUTHIER" and continue to contribute to saving endangered minority grape varieties.
A unique wine specially selected for this private sale
Personalized label with the name of your choice
Collectible bottles with works of art exhibited at Territorio Luthier
You can buy as many bottles of red and white as you have sponsored. Each of the bottles will be personalized on the label with the name you indicate in comments at the end of the purchase.
If you have any questions you can send us a whatsapp al +34 644 70 77 82
Until the vineyard of minority varieties is productive, we will select for you special wines from our winery, with which you will continue to contribute to save this type of varieties in danger of extinction.
For this first year, as it could not be otherwise, the varieties chosen are the queens of our winery. Tempranillo for the red and Albillo Mayor for the white.
This year the label includes the painting "La Cepa" by the great Asturian painter Marcos Tamargo. It is a painting that Marcos painted for us and is on display in the barrel cellar of our winery.
The wine will be ready after the summer but you can only buy it now.
You will be able to pick it up at the winery at the party we are preparing for September 5th. If you can't come we will send it to your home. Shipping costs are free from 45€.
You can buy as many bottles as the number of vines you named and put a different name on the label of each bottle.
Our winery is called Territorio Luthier because for us a luthier, the person who makes musical instruments, is like a winemaker. Both are artisans who seek to make a masterpiece that lasts over time.
We have been making wines in the most natural way possible for more than 10 years, seeking harmony, finesse, elegance and balance, just like luthiers.
Although we still have a long way to go, there are many satisfactions that our wines have given us, such as having been chosen for their menus by the most prestigious restaurants in our country, such as the three restaurants with three Michelin stars in San Sebastian or that our white albillo 2018 toured several events by the hand of the Regulatory Council, as one of the representatives of the whites of Ribera del Duero, without even having yet been released to the market and finally became the first white crianza in the history of this Designation of Origin.
For several years our winery Territorio Luthier has been working together with the Instituto Tecnológico Agrario de Castilla y León and Bodega 3 Ases on a project to recover minority grape varieties. These are native varieties of which there are very few vines left, they were discontinued in favor of more productive varieties. What will really prevent them from disappearing is to plant vineyards with them and demonstrate that they can be used to produce and market high quality wines.
Currently in our country, only 5% of the wine produced is made from minority varieties and many have already been lost in favor of more productive foreign varieties.
That is why we decided that the first vineyard we were going to plant next to the winery would be planted using these varieties. There were 1800 vines and we had everything ready to plant in the spring of 2020. Although the current situation was not favorable, we did not want to give up and thanks to your collaboration we were able to make it happen.
Now you can come to visit and take care of it and in the future you will be able to drink every year exclusively the production of the vine.
In this way, you will be part of Territorio Luthier while contributing to the project of saving these native varieties and maintaining biodiversity.
The vineyard will be there for life and will be a symbol of your solidarity and our gratitude.
The vine is a plant of great resistance and produces more quality when it is located in poor soils. That is why it symbolizes our capacity of adaptation and resistance. The vineyard with the names of all those who collaborate will always remind us of the opportunities that arise from the most difficult situations.
The varieties we have chosen are minority varieties of Castilla León. These varieties have practically disappeared and the idea is to recover them to make native wines that can provide differentiation and typicity. Looking to the past to learn for the future. Not forgetting history
The recovery of minority varieties is being carried out in collaboration with the Agricultural Technical Institute of the Junta de Castilla y León and the 3 Ases winery in Ribera del Duero. It is aimed at scientific, technical, legislative and commercial aspects.
Minority varieties are those of which very few individuals remain distributed in small vineyards and which are difficult to locate and identify. These varieties are in danger of extinction, and the project aims to study their adaptability in the Ribera del Duero area and their use for making commercial wine that can be covered by a quality designation of origin.
The varieties we have are:
Tinto Jeromo. It has been defined as the "new treasure" of Arribes due to its organoleptic properties and other characteristics that make it ideal for single-varietal wines. In this regard he highlighted its late maturity, high productivity, rusticity and the possibility of aging, high acidity and resulting in very fresh wines.
Gajoarroba. Late budding and ripening. Quite productive. Complex aromas, rustic, which makes it interesting.
Rabigato-Puesta en cruz. White grape variety, elongated and conical cluster. Intense acidity, fruity aromas, and possibility of aging. Quite productive and very interesting variety.
Mandon-Forcada. Late maturity, aromatic complexity, very productive, possibility of blending with other varieties. Medium to large cluster.
This first year the label includes the painting "La Cepa" by the Asturian painter Marcos Tamargo.
Since we opened the winery in 2018, every harvest an artist comes to discover how these special days are lived with us and with the perceptions, sensations and emotions he feels in Territorio Luthier he makes a painting that will later be part of our winery.
That first year we had the honor of receiving Marcos, and since then his work of art "La Cepa" can be admired in our barrel warehouse.
Marcos Tamargo (1982 – Present) is a Spanish plastic artist born in Gijón, Asturias. Despite his young age, he is one of the most outstanding young artists of the Spanish painting scene, as he has several works in museums and private collections such as The Hispanic Society Museum, National Heritage, European Center for Nuclear Research (CERN), Princess of Asturias Foundation, Infanta Elena Museum, Ministry of Foreign Affairs and Cooperation of Spain, etc, as well as in galleries in the United States, Europe, and South America.
Marcos Tamargo has been in charge of portraying every year the recipients of the Princess of Asturias Award, and H.M. King Felipe VI, for 5 years. Since 2019 he has been chosen to portray all the women distinguished with Nobel Prizes. He is the ambassador in Spain of the prestigious brand of paints Winsor & Newton.
Marcos Tamargo is a painter who works mostly in an abstract-figurative language, creating especially vital pieces by always having a very close relationship between the work and his personal life. One of his most important and recognizable characteristics is the use and transformation of matter in the form of textures, collected in the different places or situations of which his work speaks, to capture on canvas its very essence in a palpable way.