When we designed our winery, after several years making wine, we knew that we not only needed a space where we could make wine under the best possible conditions, but we also needed a place where we could share our passion for wine. In this way the winery would become an open space for wine lovers.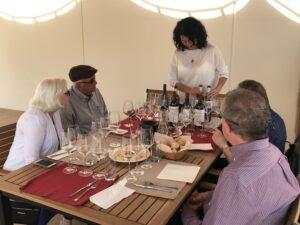 That is why wine tourism became a fundamental axis of our activity from minute 1. We designed a program of visits that would allow people to get to know our philosophy and wines in depth, but it was clear to us that we had to offer something new, something that until now was hardly being offered in the area and that wine tourists were demanding. That is why we included a catalog of wine flights, tastings on the terrace where it was not necessary to visit the winery. People come without a reservation, sit under our open-air tent in the middle of a pine forest and taste the wines they want from all the wines we produce as well as old vintages. It is not just a little terrace to have a glass of wine, it goes much further, it is wine tourism in the purest "Napa Valley" style, but in the Ribera del Duero.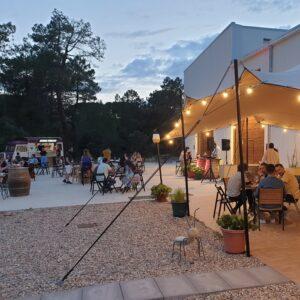 Our outdoor tent, thus became not only a sign of identity, but also a place that people associate with having a good time and that is why from the first moment we also bet on the organization of concerts on our terrace.
It all started with the grand opening party at the end of August in 2018 where more than 300 people enjoyed an outdoor party, but also a visit to the winery, wines and numerous concerts. But this was not a one-off on the occasion of the celebration.
The "Wine and Rock" festival once again filled the winery with people and music.
During the difficult summer of 2020, we put on a full program of performances, including DJ sessions, performances by monologuists, live music concerts and, as a finale, a concert by the best rock and heavy guitarist in Spain, Jorge Salán.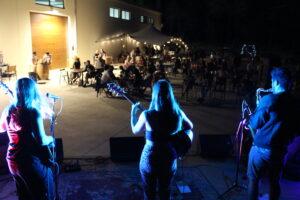 In 2021, as part of our wine tourism project, our summer music and wine festival was consolidated with performances almost every Saturday in July and August, in which we again had DJs and live music (singer-songwriters, pop/rock, funk/soul) and two very special nights of Astronomy, Music and Wine with talks by astrophysicists under the sky of the Perseids in August that we were able to see with a telescope. During all the events, apart from music, visitors could enjoy all our wines by the glass or bottle and a gastronomic proposal from a Food Truck. To close last year's events we held a Gospel Brunch during the grape harvest season, where attendees enjoyed an outdoor brunch pairing with 3 dishes and 3 wines from Territorio Luthier and a concert by the Gospel choir "Spirit to All".

Undoubtedly our terrace and our wine tourism proposal is an incentive for tourists and a complete proposal of culture and entertainment for the population of the area that will be maintained every year and already plans to expand with workshops, theme parties, pairing dinners and much more. If we have managed to get all this forward and safely in times of pandemic, imagine what we are able to do when the long-awaited normality returns?