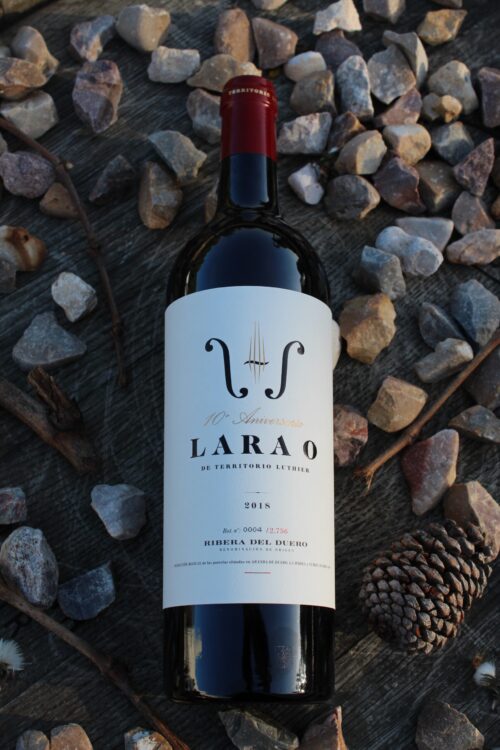 This is not a club to sign up…
This is a club of BEING
Being lovers of wines that share the essence of the luthier, elegant and natural, made with care and patience to achieve harmony, balance and freshness.
We invite you to be part of our winery by belonging to our club and you will benefit from:
Two wine shipments per year, in spring and autumn. Discount of 20% or more
Exclusive access to ¨solo club¨ wines.
Priority in the purchase of high demand wines, limited editions and/or new vintages.
Free visits and preferential treatment in visits and events.
FALL 2020 SHIPMENT
The fall shipment includes a surprise…
We present you a preview of the new
A limited edition wine (2,756 bottles) that is only available to our Club members.
So that you can enjoy it, we have prepared different types of lots, so you can choose the one you like the most.
All lots include Lara O 10th anniversary.
Normally the shipment is 6 bottles, but this particular year we make the exception and you can order 3 bottles.
Remember that all lots have a 20% discount and some include shipping costs.
Special lots (10th Anniversary and Territorio Luthier History) only available until December 15th!
(Quota limited to 12 bottles of Lara O 10th Anniversary 2018 per member).
---
Lara O 10º Anniversary 2018 is the first wine of the new winery, made totally in concrete deposit just for our club members. It has a long aging potential and a great price now.

Case of 6 or 3 bottles of Lara O 10º Anniversary 2018. Shipping cost included in continental Spain with the 6 bottles case.

Los vinos de la cata online sólo para los socios del club por zoom el 13 de febrero. La da nuestro enólogo, Fernando. Te mandamos los vinos y pasas a formar parte del club. Estos son los vinos que se van a catar y los puedes pedir por duplicado para tener en reserva. NOTA: Nuestros vinos están muy buenos al día siguiente

Lara O crianza 2016 + Lara O 10º Aniversario 2018 + Territorio Luthier reserva 2016

If you want to taste the history of Lara O and the winery. Lara O 15, the last one with the old label, when we still were Bodegas Fusion, Lara O 16, the first of the new Territorio Luthier. And Lara O 10º Anniversary, made to celebrate our first 10 years, the new winery and just for our club members.

Cse of 6 or 3 bottles of Lara O crianza 2015 + Lara O crianza 2016 + Lara O 10º Anniversary 2018. Shipping cost included in continental Spain for the case of 6 bottles

Perfect as a GIFT, to get introduced to the winery from 2011 until 2018. And we only have 60 bottles left of Lara PRO 2011.

Case of 6 bottles: 1 Lara O crianza 2015 + 1 Lara O crianza 2016+ 1 Lara O 10º Anniversary 2018 + 1 Hispania reserva 2016 + 1 Territorio Luthier reserva 2016 + 1 Lara O PRO reserva 2011 (historical vintage, 94 puntos in Decanter). Shipping cost included in continental…
---
Remember that by belonging to Club Luthier you also have a 15% discount on the purchase of other wines from our online store.
Just add them to your cart and enter the coupon CLUBLUTHIER in the checkout window.
GIVE CLUB LUTHIER: If you want to give the participation in the club as a gift, simply make the purchase with the chosen lot, in shipping address put the address of the person to whom you give it and indicate in the order notes that it is a gift, we will call you to confirm the details. Or call us directly at 644707782 to do it by phone.
LARA O 10th Anniversary 2018
This is a very special wine, it is the first red wine to come out of our new winery inaugurated in August 2018. We have made it to celebrate the 10th anniversary of the founding of our company in January 2008.
It is called Lara O, as it could not be less since Lara O crianza 2009 was the first wine we made. Lara is Fernando's sister and it was made in his honor.
Lara O 10th anniversary comes out with the generic qualification, we did not want it to be crianza or reserva because it is a unique edition.
We have used 95% Tempranillo and 5% Garnacha grapes from 70 year old vineyards in La Horra (Burgos). It has been fermented in concrete tanks and has made the malolactic fermentation in French and Hungarian oak barrels of 225 and 300L. Aged for 18 months in the same barrels with a percentage of 75% French and 25% Hungarian, with a high percentage of new barrels. And the rest in bottle. It has a lot of aging potential.
We have made this wine especially for the friends of Territorio Luthier and it is dedicated to all the people who have supported us over the years.
Each shipment will include limited editions for club members, new vintages, and/or preferred purchase options of our most demanded wines. Each shipment is of 6 bottles and has an approximate cost of 100 euros. This year 2020, 3 bottles can be ordered.
The limited edition wines are wines that are available for sale only through the club and at the winery itself.
You will receive each shipment at your home. Your credit card or bank account will be pre-notified and charged.
To maintain the benefits of club membership it is necessary to accept the two orders or have a minimum expenditure of 200 euros per year. One of the shipments can be cancelled if the minimum spending condition is met.
Premium membership is achieved with a minimum spend of €500 per year.
Two exclusive shipments a year with new vintages, limited edition wines and/or high demand wines. Tasting notes, special offers on each shipment.

Exclusive offers of high demand wines with limited quantity for members with a purchase fee.

Access and preferential purchase of new references.

Discount of 15% in 2020, on the purchase of wines throughout the year.

It can be used as a gift.

Free shipping on all orders over 120 euros.

Preferential invitation to exclusive events at the winery. The terrace opening party and the harvest party are included. You will always be welcome as friends in our winery.

Free visit to the winery for 2 people, and 20% discount on the visit for the rest of the group. Tickets for the visit are sent with the wine and by email.

Discount on the visit and tasting at the Don Carlos cellar in Aranda de Duero, a medieval underground cellar from the 15th century.

Personalized attention from our sommelier, who can advise you on pairings, purchase, etc.

Assistance from our expert in Ribera del Duero when preparing your trip.

There is no permanence, you can leave the club whenever you want.
PREMIUM level benefits, all the above plus
15% discount on the purchase of wines ç

Private visit to the winery with premium tasting for 2 people, reserved place and 20% discount on the visit for the rest of the group.

Exclusive lunch option at the winery.

50% discount on visit in 4×4 and lunch with the winemaker.

Private access to the secret room of the Don Carlos underground medieval cellar in Aranda de Duero.

Assistance from our expert in Ribera del Duero when preparing your trip, hotel reservations, restaurant, other wineries, etc.

Concierge service.
If you want to join our club you can buy the welcome pack or write us and we will contact you as soon as possible.