Bodega Territorio Luthier, located in Aranda de Duero, surprises the market once again, after launching last year the first Crianza white wine in the history of the Ribera del Duero DO. Now it does so with another white wine, this time the first white wine to be made entirely from Quercus Pyrenaica or Spanish Oak barrels.
HISPANIA Blanco 2020 is the white version of the winery's HISPANIA range. A project that was launched with HISPANIA 2009, a red wine that has been produced since then with the aim of creating high quality wines that value the native raw materials, especially the Spanish Oak or Quercus Pyrenaica, also known as Rebollo.
According to Fernando Ortiz, co-owner of the winery and winemaker:
"HISPANIA is about a project based on the local. With our raw materials, our oak, our yeasts, which now will also allow us to show the special profile of our white varieties, especially the Albillo Mayor, and to recover something as much ours as the Quercus Pyrenaica, or Spanish oak that for many years has been left unused and that we want to recover to make wines for long aging".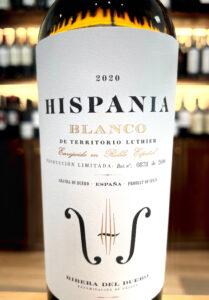 With HISPANIA Blanco, we have tried to create a unique and special wine with two important signs of identity, the use of Spanish oak barrels and the use of local white varieties, mainly Albillo Mayor and Pirulés.
As with the rest of the wines produced by this winery, grapes from very low-yielding old vineyards in the Aranda de Duero area are used, harvested by hand, which pass through a selection table and whose alcoholic fermentations are carried out naturally in concrete tanks with indigenous yeasts.
For the production of this wine, of which only 2,690 bottles have been made, Spanish oak barrels are used for both the malolactic fermentation and the subsequent aging of 16 months. At the same time as this wine, the new vintage of LARA O Blanco 2020, the winery's third Crianza white wine, has also been released.
"Wood is a crucial element in the elaboration of our wines, since they all go through barrels, but it is not predominant" Ortiz points out. "In this case, the Spanish oak adds minerality and a very special combination of characters. Like the rest of the wines we make, we want it to be a great wine, with ageing capacity, elegance and harmony".
Members of CLUB TERRITORIO LUTHIER have had exclusive access to these high-demand wines through a private sale. The rest of the marketing of this limited edition is done through its distribution network that makes them present in the most prestigious restaurants in our country as Cristina Alonso, co-owner of the winery and Commercial Director, points out.
"Our distributors have been waiting for this wine for a long time, they had the opportunity to taste its evolution in the winery, and as soon as it became available, we had to allocate quotas for its distribution due to its high demand in restaurants. One of the quotas was reserved for our Club members and for people who visit our winery, where it will also be available for direct purchase. Unfortunately, for the online store we will probably have to wait for the next vintage".
In relation to this new wine and within the framework of the cycle of Technical Conferences organized by the winery, a seminar on Spanish oak for the production and aging of aged wines is already being organized, which will take place at the winery in autumn and will be attended by numerous experts in the study and use of this wood. By that date the winery also intends to launch a HISPANIA Clarete, also made with Spanish oak, which will also be a milestone in the history of Ribera del Duero wines, whose regulatory council is celebrating the 40th anniversary of its foundation.
The Ribera winery has been making white wines with Albillo Mayor since 2018, the year in which they inaugurated their new facilities, being in 2019 when their commercialization was approved by the D.O. Ribera del Duero. Since then, Territorio Luthier's whites have been selected by the Regulatory Council, along with other Albillo Mayor wines from the area, to officially present the new "Ribera Blanca" at important events such as San Sebastián Gastronomika, Madrid Fusión, as well as international tastings.