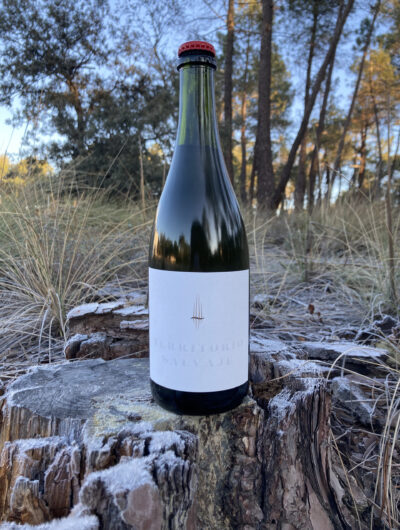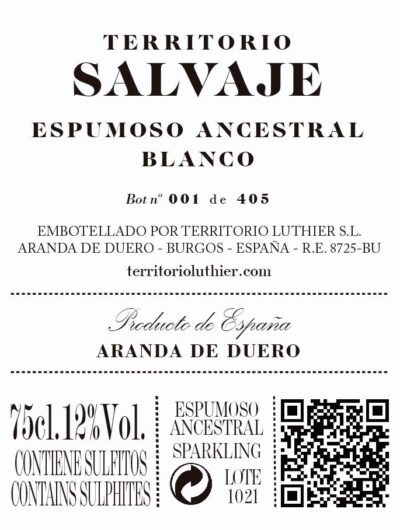 Ancestral sparkling wines are wild by definition, they cannot belong to the DO Ribera del Duero neither by variety nor by type of wine. In the 2018 vintage we delve into a world that fascinates and excites us, the world of bubbles. Bubbles that give texture to wine and joy to life. We got down to work starting with the practices in the elaboration of sparkling wines using the ancestral method, giving us two years until we could commercialize them.
The process of elaboration of this type of wines is totally handmade and very very interesting?
They are what the French call "natural sparkling wines", made by the oldest method or ancestral method in which the wine is bottled and capped when it still has sugar, before the alcoholic fermentation is finished, so that it finishes in the bottle. In this way the carbon dioxide generated during fermentation remains in the bottle and gives us the bubbles without having added anything extra.
This ancestral method is different from the famous Champenoise method, with which Champagne is made in the Champagne area and Cava is made in Spain, mainly in Penedés. To make Champagne or cava, yeast and sugar are added to a base wine for a second fermentation in the bottle. In this case nothing is added.
It is a special, fresh, elegant, unique, surprising and natural wine. A wine that feels good when you drink it, like the rest of our wines, thanks to the way they are made. And it also has soul, which is what we are looking for. It should reflect the variety, the soil, the winemaking process and, why not, the vintage.
And why does it have a cap instead of a cork? Because in this case it is not a wine in which we are looking for aging, and the cork is enough. In this way we will not make a product that has a very high labor cost more expensive.
We currently have two ancestral sparkling wines:
Espumoso ancestral white, made with Albillo and Pirulés varieties from vineyards over 80 years old in Ribera del Duero. After the manual harvest and the selection table, the best clusters were separated and destemmed for a pre-fermentative cold maceration for 24-36 hours. The grapes were then pressed and destemmed for alcoholic fermentation at low temperature with indigenous yeasts. Before fermentation was completed, it was bottled and left to settle on the lees for 12 months. During this time we have been tasting bottles to see how it evolved until October 2021, when we carried out the disgorgement. One by one, we opened the bottles to discard the cloudy part with the lees and then we "capped" the wine again without making any additions.
Ancestral Grenache sparkling wine, same system but made with 100% plastic leaf Grenache.